2017 | OriginalPaper | Buchkapitel
8. Econometric Analysis of the Impacts of Environmental Measures on Growth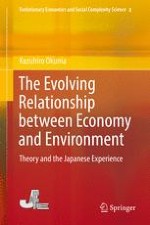 Erstes Kapitel lesen
Autor: Kazuhiro Okuma
Verlag: Springer Singapore
Abstract
This chapter conducts an econometric analysis using a Kaleckian model presented in Chap.
6
in order to understand how environmental measures in Japan have impacted its economic growth. We conduct the analysis on two periods: one centering on 1975–1982 and another from 2001 to 2008, which are set by structural changes indicated by the econometric test.
In the period from 1975 to 1982, it is shown that environmental measures raised the profit rate through significant effects of reducing importation of resources, inducing environmental investments, and enhancing export competitiveness. This shows that the "paradox of costs" for environmental measures worked.
In the period from 2001 to 2008, environmental measures were not so strengthened as to increase their costs, and thus their effect of increasing profit rate was not observed. Under the globalization of the economy, conditions for the paradox of costs became stricter than in the 1970s.
However, it is indicated that if environmental measures are strengthened and the effects of resource saving, inducing investment, and export competitiveness work, their combined effect will likely lead to higher profit rate, realizing Green Growth.