2017 | OriginalPaper | Buchkapitel
5. Econometric Analysis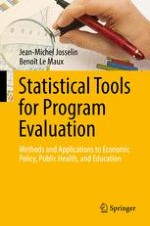 Erstes Kapitel lesen
Autoren: Jean-Michel Josselin, Benoît Le Maux
Abstract
Econometrics encompasses several multivariate tools for testing a theory or hypothesis, quantifying it and providing indications about the evolution of an outcome of interest. This chapter gives the basic knowledge on how those tools work, with examples and the corresponding R-CRAN codes. The first step is dedicated to simple and multiple linear regression models and their estimation by the method of ordinary least squares (Sects.
5.1
and
5.2
). The classical assumptions (e.g., linearity, normality of residuals, homoscedasticity, non-autocorrelation) underlying the method are exposed (Sect.
5.3
). An important step in conducting an econometric analysis is model specification as it determines the validity of the regression analysis (Sect.
5.4
). Another issue is the choice of the functional form that best fits the data, i.e. whether the variables are expressed or not in a non-linear form (Sect.
5.5
). Several tests also exist to detect potential misspecifications (Jarque-Bera, Breusch-Pagan, and Durbin-Watson tests) which are fully detailed (Sect.
5.6
). Last, the selection of the final model relies on a meticulous examination of regression outputs, e.g., whether the variables sufficiently explain the outcome of interest (Sect.
5.7
). Methods are then extended to the case where the latter is binary (Sect.
5.8
), the so-called logit and probit models.