2018 | OriginalPaper | Buchkapitel
Economic Evaluation and Urban Regeneration: A New Bottom-up Approach to Local Development Policies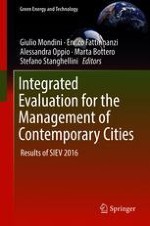 Erstes Kapitel lesen
Autoren: Rosa Maria Caprino, Gianluigi De Mare, Antonio Nesticò
Abstract
In the present context of continuing economic and financial crisis and increased social disadvantage, particularly marked in the Mezzogiorno of Italy, the experience of the Antonio Genovesi Prize was born. It's a prototypical experiment of collaboration among the university, local government, business and local banks for economic, social, cultural and environmental development in the provinces of Salerno, Avellino and Napoli and overall for the implementation of useful synergies for the establishment of stronger growth prospects. This initiative has initiated to develop the economic feasibility profile for over 70 projects in five years, since 2011, for an investment budget of more than 500 million euros (De Mare et al. in La valutazione finanziaria di progetti per il rilancio del territorio. Applicazioni a casi reali. Franco Angeli, Milano,
2012
). This report aims to represent and to highlight the effects of the actions undertaken through related activities at the regional level (Bottero et al. in Proc Soc Behav Sci 223:923–928,
2016
). As a function of the increasing relevance of extra-monetary repercussions for investment decision makers, this paper estimates such social and environmental effects attributable to examined projects. This is in accordance with recent EU guidelines (see, the Social Impact Agenda for Italy). This association was founded in 2016 to collect the experience of the Social Impact Investment Taskforce (SIIT), launched in 2013 during the UK Presidency of the G8, to bring social-impact investments to the forefront of national agendas. This is about those initiatives strongly desired by Pope Francis in his Encyclical
Laudato Si'
(
2015
) and able to give an answer to often unsatisfied needs for health, disabilities, new and more sustainable ways of living, social exclusion, promotion of cultural heritage (Nesticò et al. in Sustainability 7(11):14661–14676,
2015
), cooperative management of goods and sharing economy platforms. In the manner shown and with the aim of collecting information in particular on occupational and environmental effects, the use of cross-sectoral matrices enable the prediction of the impacts on regional economy arising from concrete realization of interventions planned in the construction industry.