2020 | OriginalPaper | Buchkapitel
6. Economic Rationality or Irrelevance of War?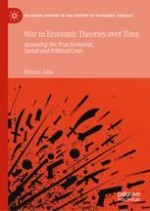 Erstes Kapitel lesen
Autor: Renata Allio
Abstract
Neoclassical economists at the end of the 1800s chose the path of theoretical analysis and analysed the behaviour of economic agents in an ordered peaceful situation, setting aside phenomena that disturb the aim of general equilibrium, including, obviously, among others, war. They considered that defence of the state was a problem of a political nature, independently of all the economic implications that war, caused for whatever motive, always brings. The second post-war period saw economists with mathematical training, even if they were interested neither in the causes leading to the war, nor in its consequences, applying Game theory to the study of military strategy and economics too, thereby introducing war to areas to be studied by neoclassical economics. They considered it a rational activity (R. Aumann: "if it were not so, how could it be studied?") within theoretical, logical, mathematical bounds, suitable for the study of any war from the Punic Wars to the World Wars. They calculated strategic gambits and suggested deterrents as the basic factor in avoiding new devastating conflicts. The School of Public Choice maintains that the choice of war can be rational and thinks that it would be more economical to entrust its conduct to private bodies.