25.09.2018 | Beitrag/Article | Ausgabe 5/2018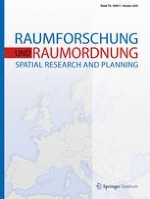 Economic Versus Social Values in Land and Property Management: Two Sides of the Same Coin?
Autoren:

Prof. Dr. Walter Timo de Vries, Prof. Dr. Winrich Voß
Abstract
This article reviews and analyses how and why land-management practice draws on two contrasting value systems: economic and social. Land managers are at the crossroads of different value systems, which both overlap and contrast. The aim of this article is to provide an understanding of which aspects are crucial in each of the value systems, and to provide a basis for how and where the value systems can be connected and where they are contradictory. This is undertaken using an exploratory qualitative and descriptive comparison, which contrasts the epistemic logics of the value systems, the manner in which each system makes use of different scales, and the way in which decisions are made with each value system. Such an understanding is crucial to improve coherence in designing and predicting the future effects of land-management interventions. Currently, practitioners tend to design interventions based on single value systems, rather than on combining or integrating value systems. The discursive comparison provides the initial steps towards a more coherent understanding of the common ground and the missing links in value logics applied in land management. These results are relevant to provide better descriptions and predictions of the effects of land-use interventions and develop improved transdisciplinary models to predict changes and development in the utilization of land or property.