06.01.2017 | Ausgabe 3/2017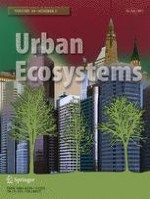 Ecosystem services assessment of the urban forests of Addis Ababa, Ethiopia
Zeitschrift:
Autoren:

Tekle Woldegerima, Kumelachew Yeshitela, Sarah Lindley
Abstract
Addis Ababa is a highland city with varied topography and landscape features. The mountains that surround the city are covered with urban forest of different types. These forests are providing various ecosystem services for the urban and peri-urban population of the city. Apart from surface temperature regulating function of the green spaces of Addis Ababa, no quantitative assessment of the carbon sequestration and soil protection ecosystem services provided by the urban forest has been conducted to date. The aim of this study was to assess selected ecosystem services such as carbon storage potential, habitat support and soil erosion protection provided by different categories of urban forest of Addis Ababa. The result showed that carbon density in the study area varied with forest categories viz. 293tons/ha, 142tons/ha and 132tons/ha in the dense, medium and open forest types respectively. The Shannon-Wiener diversity index is3.24 for
Junipers
dominated forest, 2.98 for mixed forest and 2.76 for
Eucalyptus
dominated forest. The formation of soil erosion features is significantly different among the
Eucalyptus
forest,
Juniperus
forest and Mixed forest where high incidence of soil erosion was recorded in the
Eucalyptus
forest. Therefore, irrespective of the environmental factors such as slope, aspect and elevation differences, there is an association between
Eucalyptus
forest cover and high soil erosion features. To ensure sustainable supply of ecosystem services and maintain a balanced urban environment, all green spaces in the city should be ecologically networked and diversified. Therefore, assessment of ecosystem services provided essential information for effective planning of the green space in terms of species composition and interconnectivity.