2016 | OriginalPaper | Buchkapitel
28. Education for Sustainable Development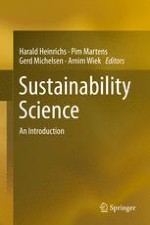 Erstes Kapitel lesen
Autoren: Ph.D. Niko Roorda, MA Han van Son
Verlag: Springer Netherlands
Abstract
Education is to play an essential role for sustainable development (SD). The chapter dedicated to "Education for Sustainable Development" (ESD) explains why and how this can be done.
First of all, a distinction is made between several levels of organizational change within a university, varying between minor changes and all-out transformation processes, leading to a state of "System Integration of Sustainable Development" (SISD). In such a process, not only the main aspects and activities of a university are transformed but even the very identity of the institution. In order to achieve this, a university has to act as a "learning organization," as is described using the concrete example of a Dutch university for applied sciences.
The key role of a university toward sustainable development is its education, as is argued. In order to describe which elements the transformation of the education consists of, the so-called Tree Model is used.
The "roots" of this tree represent the educational goals, i.e., a description of the type of professional the university wishes to deliver to the society and the professional fields. For this purpose, a tool is available called "RESFIA+D," which offers a method to develop or improve the professional competences of study programs, making use of a description of a number of levels of competence.
Another set of tools is described to develop the "trunk of the tree," i.e., a general introduction to sustainable development for all academic disciplines, consisting of a textbook and a website offering accessories, e.g., exercises, serious games, video clips, etc.
Other elements of a tree are used to describe more aspects of ESD, such as the branches, which represent the disciplinary integration of SD within modules and topics throughout the curriculum.
Finally, the chapter describes a way to raise the expertise of the teaching staff, which is quintessential to achieve the desired ESD transformation. Together with an integration of this development with the quality management, making use of ESD assessment tools such as STARS (Sustainability Tracking, Assessment & Rating System) or AISHE (Assessment Instrument for Sustainability in Higher Education), the goal of SISD can be reached.