07.01.2017 | Ausgabe 1-2/2017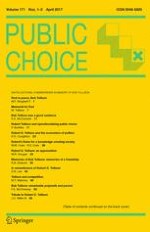 Education, identity, and community: lessons from Jewish emancipation
Zeitschrift:
Autoren:

Jean-Paul Carvalho, Mark Koyama, Michael Sacks
Wichtige Hinweise
This paper has benefitted from comments by Larry Iannaccone, Ami Glazer, Peter Leeson, Robbie Mochrie, Avner Offer and Ken Small, as well as participants at the 2012 IMBS Conference on The Evolution of Social and Religious Norms, 2012 ASREC conference at Chapman University and the Japan-Irvine conference at UC Irvine. We are also grateful to Jane Perry for careful proofreading and to Zhilong Ge for able research assistance.
Abstract
Why do some minority communities take up opportunities for education while others reject them? To shed light on this, we study the impact of Jewish Emancipation in nineteenth century Europe on patterns of education. In Germany, non-religious and Reform Jews dramatically increased their rates of education. In the less developed parts of Eastern Europe, Orthodox and ultra-Orthodox communities imposed unprecedented restrictions on secular education and isolated themselves from society. Explaining this bifurcation requires a model of education that is different from the standard human capital approach. In our model, education not only confers economic benefits but also transmits values that undermine the cultural identity of minority groups. We show that it is individually rational for agents who benefit least from rising returns to education to respond by reducing their investment in education. Group-level sanctions for high levels of education piggyback upon this effect and amplify it.