01.12.2016 | Research Article | Ausgabe 1/2016 Open Access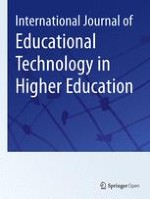 Educational innovation and digital competencies: the case of OER in a private Venezuelan university
Autoren:

Marcella Solange Prince Machado, Gloria Concepción Tenorio Sepúlveda, Maria Soledad Ramirez Montoya
Wichtige Hinweise
About the authors
Name: Marcella Solange Prince Machado
marcela.prince@gmail.com
Company: Monteavila University, Caracas. Final Av. El Buen Pastor, Urb. Boleíta Norte, Estado Miranda, Venezuela, zona postal 1071.
Country: Venezuela, Bolivarian Republic of
Biography: Master in Economics from the University of Finance and Economics, St. Petersburg, Russia and specialist learning processes, from the Catholic University Andres Bello, Caracas, professor and advisor to the Specialization in Planning, Development and Project Management of the University Monteavila Caracas.
Name: Gloria Concepción Tenorio Sepúlveda
gloria_cts@tesch.edu.mx
Company: Tecnológico de Estudios Superiores de Chalco, Carretera Federal México – Cuautla S/N, La Candelaria Tlapala, Chalco, Estado de México.
Country: México
Biography: Master of Educational Technology from the Virtual University of Tecnologico de Monterrey, a professor at the Engineering in Computer Systems Technology Advanced Studies in Chalco, tutor advisor at the School of Education, Humanities and Social Sciences ITESM and facilitator of Open and Distance University of Mexico, also collaborates in the development of reagents for CENEVAL.
Name: Maria Soledad Ramirez Montoya
solramirez@itesm.mx
Company: Tecnologico de Monterrey, Av. Garza Sada 2501 sur, Col. Tecnologico. CP 64849. Monterrey, N.L. México.
Country: México
Biography: Doctor of Philosophy and Educational Sciences (University of Salamanca), a research professor at the School of Education, Humanities and Social Sciences and coordinator of the research group of Research and Innovation in Education ITESM. Director of the UNESCO / ICDE open educational movement for Latin America.
Abstract
The challenge for universities in developing countries of Latin America is to provide quality education and to promote the development of the digital competencies necessary for an active citizenship. Nevertheless, the use of technology and open educational resources (OER) promote greater efficiency and social penetration. The objective of this research is to analyze how the attributes of innovation develop when OER are integrated with learning environments that promote digital skills. Case study and data recollection were applied to the interview, the log, the observation, and the document analysis. Results indicated that a combination of innovation attributes generates a change in: a) educational methodology, b) technological tools and ways to present its contents, and c) the way the teacher thinks and students act. The use of innovative elements allowed subjects to overcome space and time barriers, setting the foundation for the development of blended learning in the institution.