13.01.2016 | Ausgabe 2/2016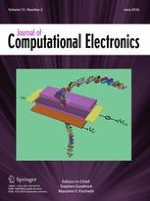 EE-BESD: molecular FET modeling for efficient and effective nanocomputing design
Zeitschrift:
Autoren:

A. Zahir, A. Pulimeno, D. Demarchi, M. Ruo Roch, G. Masera, M. Graziano, G. Piccinini
Abstract
Molecular transistor is a good candidate as substitute of CMOS device due to small size, expected good performance and suitability to be included in high density-circuits. To date a lot of effort has been carried out to understand the conduction properties in molecular devices. However, minor effort has been devoted to reduce their computational complexity to obtain a compact molecular model. First-principle based methods frequently used are highly computational demanding for a single device, thus they are not suitable for complex circuit design. In this paper we present an accurate and at the same time computationally efficient method (named Efficient and Effective model based on Broadening level, Evaluation of peaks, SCF and discrete levels,
ee-besd
) to calculate the electron transport characteristics of molecular transistors in presence of applied bias and gate voltages. The results obtained show a remarkable improvement in terms of computational time with respect to existing approaches, while maintaining a very good accuracy. Finally, the
ee-besd
model has been embedded in a circuit level simulator in order to show its functionalities and, particularly, its computational cost. This is shown to be affordable even for circuits based on a high number of devices.