01.08.2012 | Original Paper | Ausgabe 4/2012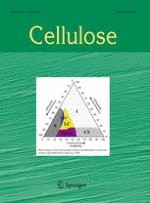 Effect of a spacer on phthalocyanine functionalized cellulose nanofiber mats for decolorizing reactive dye wastewater
Zeitschrift:
Autoren:

Shi-Liang Chen, Xiao-Jun Huang, Zhi-Kang Xu
Wichtige Hinweise
Electronic supplementary material
The online version of this article (doi:
10.​1007/​s10570-012-9701-9
) contains supplementary material, which is available to authorized users.
Abstract
We report a novel cobalt tetraaminophthalocyanine (CoPc) functionalized nanomaterial by spacer-arm immobilization of CoPc onto cellulose nanofiber mats. The spacer-arm was attached through the reaction of tetraethylenepentamine with oxidized cellulose nanofiber mats. CoPc was then covalently immobilized onto the spacer-arm using glutaraldehyde. The functionalization processes on the nanofiber mats were monitored by attenuated total reflection Fourier transform infrared spectroscopy and X-ray photoelectron spectroscopy. This CoPc functionalized nanomaterial (CoPc-spacer-NM) was used for decoloration of reactive dye wastewater. Incorporation of the spacer-arm resulted in enhanced decoloration with respect to directly immobilized CoPc onto the cellulose nanofiber mats (CoPc-NM). Compared with CoPc-NM, CoPc-spacer-NM shows much higher adsorption capacity when conducted under acidic conditions, which enhances the catalytic oxidation rate of reactive dye when H2O2 was used as an oxidant. Reactive dye wastewater can also be efficiently decolorized by the CoPc-spacer-NM/H2O2 system under basic conditions, despite a relatively weak adsorption capacity. Electron paramagnetic resonance results suggested that the catalytic oxidation process involves the formation and reaction of hydroxyl radicals. Gas chromatography–mass spectrometry showed the main products of the catalytic oxidation of reactive red X-3B were biodegradable aliphatic acids, such as oxalic acid, malonic acid and maleic acid.