18.09.2018 | Chemical routes to materials | Ausgabe 2/2019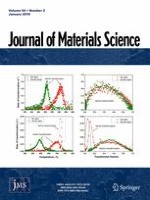 Effect of Ag2S shell thickness on the photocatalytic properties of ZnO/Ag2S core–shell nanorod arrays
Zeitschrift:
Autoren:

Xiuyan Li, Dongxu Liu, Zhu Shi, Jinghai Yang
Wichtige Hinweise
Electronic supplementary material
Abstract
ZnO/Ag2S core–shell nanorod arrays (NRAs) are successfully fabricated via chemical bath deposition procedure and subsequent successive ionic layer adsorption and reaction (SILAR) technique. The average diameter of ZnO core is about 100 nm, and the thicknesses of Ag2S shell are adjusted from 6 to 35 nm by varying the time of SILAR. ZnO/Ag2S NRAs show an enhancement of absorption in the visible region, and the absorption intensity in the visible region enhances with the increase in Ag2S shell thickness. Compared with pure ZnO NRAs, ZnO/Ag2S NRAs exhibit outstanding photocatalytic activity for degradation of rhodamine B (RhB) aqueous solution under simulated sunlight irradiation. In addition, ZnO/Ag2S NRAs with Ag2S shell thickness of 6 nm display the highest photocatalytic activity, which is 6.0 times higher than that of pure ZnO NRAs.