01.07.2011 | Ausgabe 4-5/2011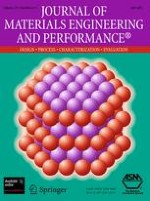 Effect of Aging on the Microstructure and Shape Memory Effect of a Hot-Rolled NiTiHf Alloy
Zeitschrift:
Autoren:

Mahdi Moshref Javadi, Majid Belbasi, Mohammad T. Salehi, M. Reza Afshar
Wichtige Hinweise
This article is an invited paper selected from presentations at Shape Memory and Superelastic Technologies 2010, held May 16-20, 2010, in Pacific Grove, California, and has been expanded from the original presentation.
Abstract
In this article, the effect of aging on the microstructure and shape memory effect (SME) of a hot-rolled Ni49Ti36Hf15 alloy is studied. The alloy was prepared by vacuum induction melting (VIM) and homogenized at 1000 °C for 2 h. The homogenized alloy was then undergone 45% hot rolling at 850 °C and aging at temperatures of 500 and 600 °C for 2 h. Optical microscopy (OM) and scanning electron microscopy (SEM) conducted on the hot-rolled samples revealed that hot rolling improves microstructure, deformation, and recoverable strains such that the alloy recovers 3.10 of 3.23 and 5.61 of 6.25 strain in the homogenized and hot-rolled state, respectively. Aging, however, adversely affects the formability and SME of the alloy, which stems from the embrittling effect of the newly formed precipitates during the aging process.