28.06.2019 | Chemical routes to materials | Ausgabe 19/2019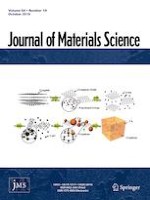 Effect of Al substrate microstructure on layered double hydroxide morphology
Zeitschrift:
Autoren:

M. Richetta, E. Ciotta, R. Montanari, R. Narducci, R. Pizzoferrato, A. Varone
Wichtige Hinweise
Publisher's Note
Springer Nature remains neutral with regard to jurisdictional claims in published maps and institutional affiliations.
Abstract
Layered double hydroxides (LDHs) are 2D ionic lamellar nanomaterials, which attract increasing interest for applications in different fields. This paper shows that their morphology is strongly affected by the microstructure of the substrate on which they grow. Zn–Al LDHs were grown in the same conditions on Al substrates with different microstructural features obtained from cold-rolled sheets by annealing at 265 °C for increasing soaking time up to 1 h. LDH morphology was then investigated through scanning electron microscopy observations. The homogeneous distribution of petals on the substrate surface mainly depends on grain size distribution. A bimodal grain size distribution in the substrate leads to the formation of petal clusters and a not complete covering of the surface. In the case of grains of large size the nucleation sites are the dislocations forming the walls of the cells, while owing to their low density, the dislocations inside the grains are not a relevant factor in determining the LDH morphology.