05.01.2021 | ORIGINAL ARTICLE | Ausgabe 2/2021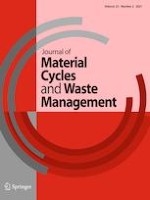 Effect of alkali activator concentration on waste brick powder-based ecofriendly mortar cured at ambient temperature
Zeitschrift:
Autoren:

Mitiku Damtie Yehualaw, Chao-Lung Hwang, Duy-Hai Vo, Abraham Koyenga
Wichtige Hinweise
Publisher's Note
Springer Nature remains neutral with regard to jurisdictional claims in published maps and institutional affiliations.
Abstract
The main goal of this research was to investigate the effect of alkali activator concentrations and fine aggregate types on the performance of waste brick powder (WBP)-based alkali-activated mortar. Ground granulated blast furnace slag was used to modify the properties of WBP. Na2SiO3 and NaOH were used as the alkali activator solutions, with Na2O content varying between 2 and 10% and the SiO2/Na2O ratio varying between 0.25 and 2. Waste ceramic sand (WCS) and recycled concrete fine aggregate (RFA) were used as the alternative fine aggregate materials to replace natural fine aggregate (NFA). The mortar mixtures were successfully developed at significantly lower alkali activators concentrations (starting from 4% Na2O and SiO2/Na2O ratio of 0.5) than previously reported in the literature. The compressive strengths of the mortar were measured between 8 and 46 MPa. The partial replacement of NFA by WCS enhanced the compressive strength of mortar. Scanning electron microscope, energy dispersive X-ray spectroscopy, X-ray diffraction, and Fourier transform infrared spectroscopy analysis were used to study the microstructural properties of mortar. Higher compressive strength and an increasingly compact microstructure were observed as Na2O content increases from 4 to 10% and as the SiO2/Na2O ratio rise from 0.5 to 1.5.