16.11.2018 | Ausgabe 12/2018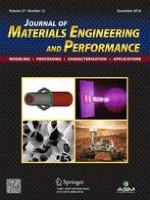 Effect of Annealing on the Microstructure and Properties of Electron Beam Welded 4J34 Kovar Alloy
Zeitschrift:
Autoren:

Guoqing Chen, Ge Zhang, Xi Shu, Binggang Zhang, Jian Li, Jicai Feng
Abstract
Electron beam welding of 4J34 Kovar alloy was conducted, and the microstructure and mechanical properties of the joints in as-welded and postweld annealing treatment (PWAT) states were investigated. The martensitic transformation occurred and led to the generation of
α
lath martensite due to the rapid cooling in the as-welded condition. After annealing treatment, part of the
α
martensite transformed to
γ
austenite and subsequently developed the bulk
γ
phase and
α
/
γ
lamellar microstructures in the fusion zone (FZ) of the postwelded joint. Grains in the heat-affected zone (HAZ) clearly developed and penetrated into the FZ, causing the disappearance of the fusion line between the FZ and the HAZ. All the joints in both the as-welded and PWAT conditions exhibited ductile fracture. The maximum tensile strength of 505 MPa was obtained in the as-welded joint with the welding speed of 150 mm/min. The linear expansion coefficients of the joint and base metal decreased with the increase in temperature. However, the decreasing rate of PWAT joints was lower than that of the as-welded joints.