01.01.2015 | Ausgabe 1/2015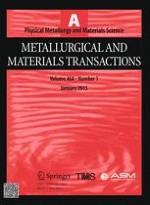 Effect of Anodized Oxide Layer Aging on Wettability of Alkyl Silane Coating Developed on Aerospace Aluminum Alloy
Zeitschrift:
Autoren:

G. Yoganandan, T. Bharathidasan, M. Soumya Sri, D. Vasumathy, J. N. Balaraju, Bharathibai J. Basu
Wichtige Hinweise
Manuscript submitted September 26, 2013.
Abstract
Incipient nanoporous texture was developed by phosphoric acid anodization (PAAO) process on AA2024 specimen. The developed oxide layer was modified with low surface energy material fluoroalkyl-silane (FAS-13) by simple immersion technique to improve the hydrophobic property of the surface. Atomic force microscopy results showed that there was a significant reduction (30 pct) in surface roughness due to the aging of PAAO. The water contact angle measurement revealed that there was a gradual increase in WCA from 130 to 160 deg due to the aging of PAAO. A systematic composition analysis was carried out to understand the interfacial chemical reaction and also to differentiate the coating formation mechanism between the natural and artificial aging processes. The potentiodynamic polarization results revealed that the superhydrophobic (SH) surface exhibited about 15 and 4 times improved corrosion resistance compared to bare specimen and PAAO, respectively. Electrochemical impedance spectroscopy results also showed the improved corrosion inhibition behavior of vacuum heat-treated and FAS-modified SH surface among the developed coatings.