19.03.2016 | Ausgabe 7/2016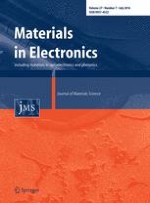 Effect of auxiliary electron-donating group on the microscopic nonlinear optical properties of vinyl and azobenzene based chromophores
Autoren:

Xiang Tang, Kun Jia, Xianzhong Tang, Lei Chen, Lin Pan
Wichtige Hinweise
Electronic supplementary material
The online version of this article (doi:
10.​1007/​s10854-016-4681-4
) contains supplementary material, which is available to authorized users.
Abstract
A series of organic nonlinear optical chromophores containing different auxiliary electron-donating groups (alkoxy, benzyloxy and alkyl) and π-conjugated bridges (vinyl and azobenzene) have been synthesized and systematically characterized using UV–Vis spectroscopy, density functional theory calculation and thermogravimetric analysis. The microscopic molecular hyperpolarizability was obtained via the simple solvatochromism method, where the synthesized chromophores were dissolved in several solvents with different refractive index for absorption spectra measurement. It was found that the introduction of auxiliary groups obviously improved the microscopic molecular hyperpolarizability of all the synthesized chromophores, especially for the benzyloxy modified azobenzene based chromophore, up to sevenfold enhancement of molecular hyperpolarizability as well as good visible light transmittance and thermal stability up to 247 °C were obtained, which should be mainly attributed to the enhanced charge transfer enabled by the benzyloxy modification that is confirmed by the electron density distribution in the highest occupied molecular orbital and lowest unoccupied molecular orbital.