17.06.2015 | Ausgabe 6/2015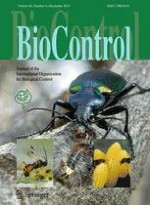 Effect of
Beauveria bassiana

infection on the feeding performance and antioxidant defence of red palm weevil,

Rhynchophorus ferrugineus
Zeitschrift:
Autoren:

Abid Hussain, Muhammad Rizwan-ul-Haq, Hassan Al-Ayedh, Sohail Ahmed, Ahmed Mohammed Al-Jabr
Wichtige Hinweise
Handling Editor: Helen Roy.
Abstract
The entomopathogenic fungal infection of target hosts depends on pathogen fitness and host defence mechanisms. Pathogen-host interactions in red palm weevil,
Rhynchophorus ferrugineus
larvae are poorly understood. In order to explore this interaction, 4th, 8th, and 12th instar red palm weevil larvae were immersed in conidial suspensions of four isolates of
Beauveria bassiana
. Significant differences in the virulence of the tested isolates were revealed by LT
50
values. Conidia of B8463, a highly virulent isolate, showed 33.53 % higher relative hydrophobicity and twice as much Pr1 activity than conidia of B8465. Growth indices, calculated after 72 h of incubation, revealed significant differences in the food utilization efficiencies of all studied larval instars infected with different isolates. Conidial infection with B8463 caused 39–45 % reduction in efficacy of consumption of ingested food (ECI) and 55–61 % reduction in digested food (ECD). The least virulent isolate, B8465, caused the smallest reduction in ECI (2–4 %) and ECD (3–9 %). Furthermore, enhanced expression of target antioxidant genes (
catalases
and
peroxidase
) was observed in larvae infected with virulent isolates. Similarly, approximate digestibility showed an opposite trend, with the highest values being recorded from samples infected with the most virulent conidia (B8463) at each studied larval instar. In conclusion, isolate B8463 significantly affected the growth and development of red palm weevil larvae and has good potential for use in eco-friendly
R. ferrugineus
management.