01.04.2014 | Ausgabe 4/2014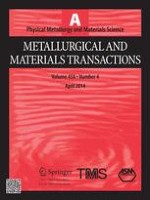 Effect of Bonding Temperature on Interfacial Reaction and Mechanical Properties of Diffusion-Bonded Joint Between Ti-6Al-4V and 304 Stainless Steel Using Nickel as an Intermediate Material
Zeitschrift:
Autoren:

Gopinath Thirunavukarasu, Sukumar Kundu, Brajendra Mishra, Subrata Chatterjee
Wichtige Hinweise
Manuscript submitted February 1, 2013.
Abstract
An investigation was carried out on the solid-state diffusion bonding between Ti-6Al-4V (TiA) and 304 stainless steel (SS) using pure nickel (Ni) of 200-
μ
m thickness as an intermediate material prepared in vacuum in the temperature range from 973 K to 1073 K (700 °C to 800 °C) in steps of 298 K (25 °C) using uniaxial compressive pressure of 3 MPa and 60 minutes as bonding time. Scanning electron microscopy images, in backscattered electron mode, had revealed existence of layerwise Ti-Ni-based intermetallics such as either Ni
3
Ti or both Ni
3
Ti and NiTi at titanium alloy-nickel (TiA/Ni) interface, whereas nickel-stainless steel (Ni/SS) diffusion zone was free from intermetallic phases for all joints processed. Chemical composition of the reaction layers was determined in atomic percentage by energy dispersive spectroscopy and confirmed by X-ray diffraction study. Room-temperature properties of the bonded joints were characterized using microhardness evaluation and tensile testing. The maximum hardness value of ~800 HV was observed at TiA/Ni interface for the bond processed at 1073 K (800 °C). The hardness value at Ni/SS interface for all the bonds was found to be ~330 HV. Maximum tensile strength of ~206 MPa along with ~2.9 pct ductility was obtained for the joint processed at 1023 K (750 °C). It was observed from the activation study that the diffusion rate at TiA/Ni interface is lesser than that at the Ni/SS interface. From microhardness profile, fractured surfaces and fracture path, it was demonstrated that failure of the joints was initiated and propagated apparently at the TiA/Ni interface near Ni
3
Ti intermetallic phase.