31.08.2017 | Ausgabe 11/2017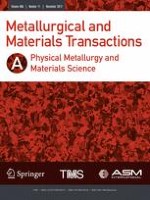 Effect of Boron on the Strength and Toughness of Direct-Quenched Low-Carbon Niobium Bearing Ultra-High-Strength Martensitic Steel
Zeitschrift:
Autoren:

Jaakko Hannula, Jukka Kömi, David A. Porter, Mahesh C. Somani, Antti Kaijalainen, Pasi Suikkanen, Jer-Ren Yang, Shao-Pu Tsai
Wichtige Hinweise
Manuscript submitted May 11, 2017.
Abstract
The effect of boron on the microstructures and mechanical properties of laboratory-control-rolled and direct-quenched 6-mm-thick steels containing 0.08 wt pct C and 0.02 wt pct Nb were studied. The boron contents were 24 ppm and a residual amount of 4 ppm. Two different finish rolling temperatures (FRTs) of 1093 K and 1193 K (820 °C and 920 °C) were used in the hot rolling trials to obtain different levels of pancaked austenite prior to DQ. Continuous cooling transformation (CCT) diagrams were constructed to reveal the effect of boron on the transformation behavior of these steels. Microstructural characterization was carried out using various microscopy techniques, such as light optical microscopy (LOM) and scanning electron microscopy-electron backscatter diffraction (SEM-EBSD). The resultant microstructures after hot rolling were mixtures of autotempered martensite and lower bainite (LB), having yield strengths in the range 918 to 1067 MPa with total elongations to fracture higher than 10 pct. The lower FRT of 1093 K (820 °C) produced better combinations of strength and toughness as a consequence of a higher degree of pancaking in the austenite. Removal of boron lowered the 34 J/cm2 Charpy-V impact toughness transition temperature from 206 K to 158 K (−67 °C to −115 °C) when the finishing rolling temperature of 1093 K (820 °C) was used without any loss in the strength values compared to the boron-bearing steel. This was due to the finer and more uniform grain structure in the boron-free steel. Contrary to expectations, the difference was not caused by the formation of borocarbide precipitates, as verified by transmission electron microscopy (TEM) investigations, but through the grain coarsening effect of boron.