03.12.2018 | Ausgabe 7-8/2018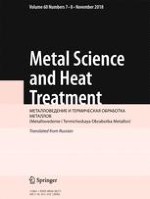 Effect of Bulk Nitriding on Magnetic Properties of Iron
Zeitschrift:
Autoren:

I. O. Minkova, V. P. Menushenkov, E. S. Savchenko, M. V. Zheleznyi
Wichtige Hinweise
Translated from
Metallovedenie i Termicheskaya Obrabotka Metallov
, No. 8, pp. 52 – 56, August, 2018.
Results of a study of nitriding of iron with the use of boron, aluminum and silicon nitrides are presented. It is shown that the method suggested, which involves mixing of Fe powders with BN, AlN and Si3 N4, pressing of the briquette, heating in a nitrogen atmosphere to 1550°C, 3-h holding, and cooling with the furnace, gives specimens consisting of two parts, i.e., ceramic and metallic ones. The structure of the metallic part is represented by primary precipitates of iron and eutectic colonies of type Fe – Fe2 B in which a part of boron is substituted with nitrogen. The metallic specimens possess enhanced hardness and relatively high coercivity comparable to that of nitrided thin films and nanosize powders.