01.10.2019 | ORIGINAL ARTICLE | Ausgabe 9-12/2019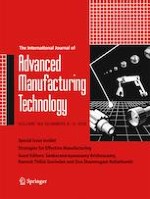 Effect of Ca additions on evolved microstructures and subsequent mechanical properties of a cast and hot-extruded Mg–Zn–Zr magnesium alloy
Autoren:

S. Moradnezhad, A. Razaghian, R. Taghiabadi, H. R. Abedi, A. Salandari-Rabori, M. Emamy
Wichtige Hinweise
Highlights
• Divorced-eutectic morphology changes to lamellar or rod-like shape in Ca-containing alloys.
• Mg-Zn binary phase are replaced with Ca2Mg6Zn3 ternary compound through Ca addition.
• Ca-containing intermetallics considerably restricts the grain growth during solidification.
• Extrusion decreases grain size, breaks eutectic network, and reduces the defects population.
• High grain refinement capability of Ca-containing alloy due to activation of PSN mechanism.
• Achievement of superior tensile strengths.
Publisher's note
Springer Nature remains neutral with regard to jurisdictional claims in published maps and institutional affiliations.
Abstract
The effect of calcium content on the microstructure and subsequent mechanical properties of ZK60 magnesium alloy in the cast and extruded conditions were precisely studied. Alloys containing 0, 0.1, 0.5, 1, and 2% (wt%) Ca were cast, were homogenized, and then were extruded by an extrusion ratio of 12:1. The base alloy (free of Ca) exhibited partially divorced-eutectic morphology, whereas the Ca containing alloys displayed lamellar or rod-like shaped morphologies. Along with the totally different morphology, the addition of Ca to the base alloy also gave rise to a gradual replacement of the Mg–Zn binary compound with the Ca2Mg6Zn3 ternary compound. It is realized that the Ca-containing intermetallic compound considerably restricted the grain growth during solidification, and the cast structure was efficaciously refined. Applying the hot extrusion procedure, as an effective thermomechanical processing route, not only modified the cast microstructure by decreasing grain size, breaking the eutectic network and changing the size and morphology of Ca-rich intermetallic phases, but also significantly mitigated the population of casting defects. The higher capability of Ca-containing Mg alloys in grain refinement in extruded samples was attributed to the activation of the particle-stimulated nucleation mechanism, especially adjacent to the large ternary Mg–Zn–Ca phases. Additionally, the room temperature tensile properties and corresponding fracture surfaces were also assessed and correlated with the microstructural evolutions.