01.04.2015 | Ausgabe 2/2015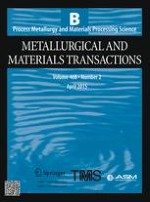 Effect of Ca on the Behavior of Double Oxide Film Defects in Commercially Pure Aluminum Melt
Zeitschrift:
Autoren:

Farzaneh Khaleghifar, Ramin Raiszadeh, Hamid Doostmohammadi
Wichtige Hinweise
Manuscript submitted July 31, 2014.
Abstract
The change in the composition of oxide layers and the possibility of the formation of bonding between the two layers of a double oxide film defect when held in Al-0.01 and 0.05 wt pct Ca melt was investigated, and the thermodynamics of the transformations occurring in the Al-Ca-Al2O3 system was studied. The defect was modeled experimentally by maintaining two aluminum oxide layers in contact with one another in the liquid metal at 1023 K (750 °C) for times ranging from 5 seconds to 50 hours. Any changes in the composition and morphology of these layers were studied by scanning electron microscopy and energy-dispersive X-ray spectroscopy. The results showed that the initial Al2O3 layer started to transform to a mixture of calcium aluminates in both alloys when the Al bars were still in the solid state. This transformation caused the two oxide layers to bond with each other gradually after the bars melted. The degree of bonding, however, was not consistent between the repetitions of the experiments, which was attributed to the difference between the initial H content of the melt on different experimental days.