01.01.2015 | Ausgabe 1/2015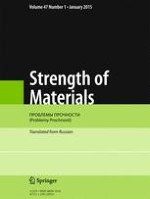 Effect of Carburizing and Shot Peening on the Microstructure and Surface Properties of 17-CrNi6-Mo Steel
Zeitschrift:
Autoren:

Y. H. Lv, D. Y. Gai, Y. Q. Song, X. Q. Ma
Wichtige Hinweise
Translated from Problemy Prochnosti, No. 1, pp. 57 – 67, January – February, 2015.
Carburizing and shot peening are commonly accepted surface treatment methods used to improve the surface properties of materials. Researchers are making attempts to optimize their application for obtaining superior mechanical properties. However, there are few comprehensive reports on this problem. The combination of carburizing and shot peening is used for the surface treatment of 17-CrNi6-Mo steel. This is followed by detailed analysis employing optical and scanning electron microscopy, microhardness testing, surface roughness measurements, and the measurement of residual stresses using X-ray diffraction. The results show that shot peening can further improve the microstructure and surface properties of carburized specimens since it induced the phase transformation of a carburized layer. Moreover, simulation of the phase composition variation curve along with the change in the carbon content and the continuous cooling transformation (CCT) curve of the specimen is also presented. The results are used to elucidate the carburizing effect on a 17-CrNi6-Mo steel surface microstructure.