01.07.2013 | Original Paper | Ausgabe 1/2013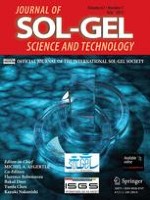 Effect of chemical composition and heat treatment condition on microstructure and magnetic properties of nanocrystalline BaDyxFe12−xO19 (x = 0.1, 0.2, 0.3, 0.4) microfibres
Zeitschrift:
Autoren:

Xianfeng Meng, Yongkang Ji
Abstract
A series of BaDy
x
Fe
12−x
O
19
ferrite microfibres have been synthesized from metal nitrates and citric acid by the sol–gel method. TG-DSC, XRD, FTIR, FESEM, TEM and VSM were employed to characterize the thermal decomposition process, crystallite sizes, structure and magnetic properties of ferrite microfibres. The effect of calcined temperature, holding time, ion substitution on structure, magnetic properties of barium ferrite microfibres was investigated. The nanoparticle growth mechanism of ferrite microfibres was discussed. The results indicated that the hexaferrite phase was formed at 750 °C and Dy
3+
ions entered the magnetoplumbite lattice. However, the reflections shift to a lower angle and the characteristic peaks of ferrite microfibres in FTIR shift to the lower wavenumber with the Dy content increasing. The VSM results shown that saturation magnetization (
M
s
) gradually increased with calcined temperature increasing and holding time prolonging, while coercive force (
H
c
) revealed an increase at first and then decreases. With the Dy content increasing, the
M
s
achieved values of
M
s
= 50 emu g
−1
(297 K) and 70 emu g
−1
(77 K) and the
H
c
value shown a continuous reduction from 515 kA  m
−1
(297 K) and 435 kA m
−1
(77 K) (x = 0.0) to 242 and 215 kA m
−1
(x = 0.4).