14.06.2020 | Ausgabe 9/2020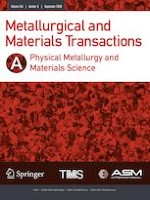 Effect of Cooling Rate on Carbide Banding in High-Chromium Bearing Steel After Spheroidization
Zeitschrift:
Autoren:

Hong-Yi Wu, Yen-Hao Frank Su, Guan-Ru Lin, Jui-Chao Kuo
Wichtige Hinweise
Manuscript submitted February 3, 2020.
Publisher's Note
Springer Nature remains neutral with regard to jurisdictional claims in published maps and institutional affiliations.
Abstract
This study investigated the effect of cooling rate on the formation of carbide bands in hot-rolled SUJ2 steel after spheroidization. The metallographic microstructure was observed under an optical microscope and a scanning electron microscope with an electron backscatter diffractometer, and the distribution of the chemical composition was analyzed using a field emission electron probe. Experimental results show the formation of carbide banding and the effect of cooling rate. Cr segregation occurs in carbide banding, in which C content increases after austenitization and spheroidization. The area fraction of carbide in the band region is larger than that in the normal region. Increasing the cooling rate can restrain the diffusion of C into the Cr microsegregation band. The formation of carbide banding can be avoided at a high cooling rate. This phenomenon may aid in quantifying the processing parameter of the cooling rate to improve the quality and the lifetime of bearings for bearing steels.