01.02.2020 | ORIGINAL PAPER | Ausgabe 2/2020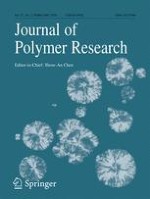 Effect of copper (II) nitrate 3H2O on the crystalline, optical and electrical properties of poly(vinyl alcohol) films
Zeitschrift:
Autoren:

R. S. Hafez, Sh. S. El-Khiyami
Wichtige Hinweise
Publisher's note
Springer Nature remains neutral with regard to jurisdictional claims in published maps and institutional affiliations.
Abstract
Composite films of poly (vinyl alcohol) PVA doped with various weight ratios of Cu(NO3)2.3H2O (0, 1, 5, 10 and 20) wt% have been prepared by solution casting method. Using X-ray diffraction (XRD), Fourier transform infrared spectroscopy (FT-IR), and Ultraviolet–Visible (Uv-Vis) spectroscopy, the synthetic composites were analyzed. The findings showed that Cu(NO3)2.3H2O interacts with the hydroxyl group present in PVA chain. The XRD analysis revealed that after adding Cu(NO3)2.3H2O, PVA crystallites were destroyed. With increasing Cu(NO3)2.3H2O ratio, the absorbance of composite samples increased. The optical band gap energy of the composite samples was calculated using Tauc's formula and it reduced by increasing dopant concentration. The dielectric modulus and ac conductivity of the composite films have been studied. Ac conductivity was found to increase by increasing the dopant concentration up to 10 wt%. Electrical conduction is carried out using correlated barrier hopping model.