12.03.2019 | Ausgabe 8/2019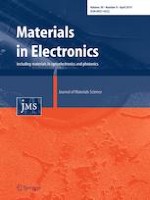 Effect of dopant-induced defects on structural, electrical, and enhanced ferromagnetism and magnetoelectric properties of Dy and Sr co-doped BiFeO3
Autoren:

Muniyandi Muneeswaran, Jae-Won Jang, Jung Hyun Jeong, Ali Akbari-Fakhrabadi, N. V. Giridharan
Wichtige Hinweise
Publisher's Note
Springer Nature remains neutral with regard to jurisdictional claims in published maps and institutional affiliations.
Abstract
In this report, [Bi
0.95
Dy
0.05
FeO
3
(BDFO), Bi
0.95−x
Dy
0.05
Sr
x
FeO
3,
x = 0.05 (BDSFO-1), and Bi
0.95−x
Dy
0.05
Sr
x
FeO
3,
x = 0.10 (BDSFO-2)] ceramics are prepared by the solid-state reaction. Crystal structures of Dy
3+
and Sr
2+
- substituted BFO samples are confirmed as rhombohedral with the space group
(R3c)
through X-ray diffraction analysis and evidenced with Reitveld refinement. The band gap energy is 2.14, 2.16, and 2.18 eV for BDFO, BDSFO-1 and BDSFO-2, respectively. Characteristic modes in Raman spectra of the samples are denoted as A
1
-1, A
1
-2, and A
1
-3 and E, which are favorable to induce ferroelectricity of BFO. Remnant polarization measured with respect applied electric field (P–E) hysteresis loops of the samples increases with increasing Sr
2+
concentration of BDFO. Sr
2+
-doped BFO samples represent the higher leakage current density than the Dy
3+
-doped BFO, which is attributed that the Sr
2+
ions create the oxygen vacancies in BFO. Ferromagnetic ordering and enhanced saturation magnetizations are observed in magnetic measurements of BDSFO-1 and BDSFO-2 samples at room temperature. Furthermore, characteristics of the magneto-electric coupling were examined in through magneto-capacitance of Sr
2+
and Dy
3+
-substituted BiFeO
3
samples.