27.06.2019 | Ausgabe 14/2019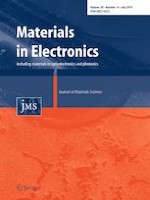 Effect of Dy2O3 content on the dielectric, ferroelectric, and energy storage properties of lead-free 0.5Na0.5Bi0.5TiO3–0.5SrTiO3 bulk ceramics
Autoren:

Peng Chen, Leiyang Zhang, Jing Cai, Ziyang Wang, Wengjing Shi, Jiayi Jing, Fangbin Wei, Gang Liu, Yan Yan, Hongbo Liu, Li Jin
Wichtige Hinweise
Publisher's Note
Springer Nature remains neutral with regard to jurisdictional claims in published maps and institutional affiliations.
Abstract
In the past decades, lead-free ceramics with high polarization, low remnant polarization and high electric breakdown strength have drawn a lot of attention because of their potential applications in dielectric capacitors with excellent energy storage performance. In the current investigation, we develop a novel lead-free Dy doped 0.5Na
0.5
Bi
0.5
TiO
3
–0.5SrTiO
3
ceramics, which were fabricated by the conventional electroceramic processing route. By doping Dy
2
O
3
into 0.5Na
0.5
Bi
0.5
TiO
3
–0.5SrTiO
3
with various contents from 0.1 at.% to 0.5 at.%, pure perovskite phases and relatively dense structures were obtained. The increase of Dy
2
O
3
concentration not only shifts the
T
m
toward to lower temperature, but also reduces the permittivity and gain sizes, thus enhancing the temperature stability of dielectric properties. The enhanced dielectric energy storage properties were systematically investigated by testing the polarization–electric field hysteresis loops as a function of the applied electric field, temperature, and loading cycles. The dielectric energy storage density of in 0.1 at.% doped 0.5Na
0.5
Bi
0.5
TiO
3
–0.5SrTiO
3
is 1.59 J/cm
3
, which is nearly twice higher than that of undoped NBT–ST. Hence, the Dy modified 0.5Na
0.5
Bi
0.5
TiO
3
–0.5SrTiO
3
ceramics have exhibited potential application as dielectric capacitors with relatively good energy storage performance.