01.01.2014 | Brief Originals Kurzoriginalia | Ausgabe 1/2014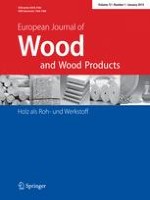 Effect of end pressure on performance of structural finger-joined lumber fabricated using a short joint profile
Zeitschrift:
Autoren:

Shuzhan Rao, Meng Gong, Y. H. Chui, Mohammad Mohammad
Abstract
This study was to examine the effect of end pressure on the mechanical properties and delamination resistance of structural black spruce (
Picea mariana
) finger-joined lumber made of a short (12.7-mm-long) finger profile. End pressures used were 2.00, 3.43, 6.00 and 8.00 MPa. 8.00 MPa yielded the greatest 5th percentile ultimate tensile strength, but caused cracks at tips of a joint. It was recommended that 2.00 MPa be used as the optimized end pressure from the viewpoint of energy saving.