01.11.2013 | Original Article | Ausgabe 6/2013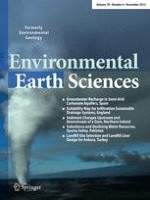 Effect of fines content and void ratio on the saturated hydraulic conductivity and undrained shear strength of sand–silt mixtures
Zeitschrift:
Autoren:

Mostefa Belkhatir, Tom Schanz, Ahmed Arab
Abstract
The hydraulic conductivity represents an important indicator parameter in the generation and redistribution of excess pore pressure of sand–silt mixture soil deposits during earthquakes. This paper aims to determine the relationship between the undrained shear strength (liquefaction resistance) and the saturated hydraulic conductivity of the sand–silt mixtures and how much they are affected by the percentage of low plastic fines (finer than 0.074 mm) and void ratio of the soil. The results of flexible wall permeameter and undrained monotonic triaxial tests carried out on samples reconstituted from Chlef river sand with 0, 10, 20, 30, 40, and 50 % non-plastic silt at an effective confining pressure of 100 kPa and two initial relative densities (
D
r
= 20, 91 %) are presented and discussed. It was found that the undrained shear strength (liquefaction resistance) can be correlated to the fines content, intergranular void ratio and saturated hydraulic conductivity. The results obtained from this study reveal that the saturated hydraulic conductivity (
k
sat
) of the sand mixed with 50 % low plastic fines can be, in average, four orders of magnitude smaller than that of the clean sand. The results show also that the global void ratio could not be used as a pertinent parameter to explain the undrained shear strength and saturated hydraulic conductivity response of the sand–silt mixtures.