01.12.2016 | Technical Article | Ausgabe 6/2016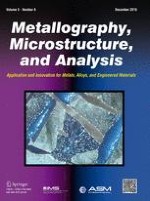 Effect of Friction Stir Welding Process Parameters on Microstructure and Mechanical Properties of Dissimilar AA6061-T6 and AA7075-T6 Aluminum Alloy Joints
Zeitschrift:
Autoren:

V. Saravanan, S. Rajakumar, A. Muruganandam
Abstract
Dissimilar friction stir welding (FSW) of aluminum alloys has paved way for the manufactures to explore the possibilities of using cost-effective materials. This paper investigates the microstructural characteristics and mechanical behavior for joining AA6061-T6 and AA7075-T6 aluminum alloys by FSW technique. A total of 20 joints were fabricated by varying the ranges of tool rotational speed (
N
), welding speed (
S
), axial load (
L
) and tool shoulder diameter to pin diameter ratio (
R
). The effects of these parameters are evaluated by varying one parameter within the range and keeping all other parameters constant. Macro-, microstructural and fractographic studies for each joint were presented in detail. The variation in tensile strength, hardness, and grain size for each joint was analyzed and presented. Fractographic analysis clearly shows that the failure has occurred due to ductile fracture. It was found that at rotational speed of 1100 RPM, welding speed of 26 mm/min, axial load of 7 kN, and a tool shoulder diameter to pin diameter ratio of 3 quality welds with higher tensile strength and hardness can be obtained. A greater reduction in grain size can be seen in stir zone was the reason for increase in mechanical behavior.