05.02.2018 | Original paper | Ausgabe 4/2018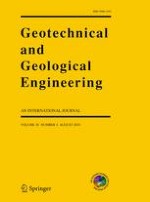 Effect of Gradation of Bed Material on Local Scour Depth
Zeitschrift:
Autoren:

Bintul Huda Mir, Mohd Akbar Lone, Javeed Ahmad Bhat, Nasir Ahmad Rather
Abstract
The paper presents a study on local scour with respect to bed material gradation, flow depth and the Froude number. In the study, bed materials collected from five different rivers were used separately for four different shapes of the obstructions. The water discharge was also varied for each run. The experimental results obtained, reveal the dependence of local scour on the overall bed material gradation, and shape of the obstruction, especially the upstream interface. The models developed on basis of the experimental findings for different shapes are more realistic than the widely adopted criteria which mainly consider only effective size,
d
50
of the bed material, ignoring the other gradation parameters. Moreover, it was found that the obstruction shape also affects the scour phenomenon considerably.