06.09.2017 | Ausgabe 11/2017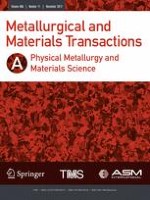 Effect of Heat Treatment on Liquation Cracking in Continuous Fiber and Pulsed Nd:YAG Laser Welding of HASTELLOY X Alloy
Zeitschrift:
Autoren:

M. Pakniat, F. Malek Ghaini, M. J. Torkamany
Wichtige Hinweise
Manuscript submitted November 16, 2016.
Abstract
Laser welding of HASTELLOY X is highly feasible; however, hot cracking can be a matter of concern. The objective of this study is to assess the effect of solution heat treatment on susceptibility to liquation cracking in welding of a 2-mm-thick HASTELLOY X plate. In addition, Nd-YAG pulsed laser (400 W) and continuous wave (CW) fiber laser (600 W) were compared with each other in this respect. Results revealed that performing the prewelding solution heat treatment reduces the tendency for occurrence of liquation cracking. Furthermore, it was established that by increasing pulse frequency, there was a significant reduction in the tendency for liquation cracking. With CW laser welding of HASTELLOY X in the solution-heat-treated condition, the tendency for heat-affected zone (HAZ) cracking was found to be minimized.