01.02.2013 | Ausgabe 2/2013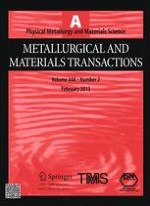 Effect of Heat Treatment on Niobium Segregation of Laser-Cladded IN718 Alloy Coating
Zeitschrift:
Autoren:

Yaocheng Zhang, Zhuguo Li, Pulin Nie, Yixiong Wu
Wichtige Hinweise
Manuscript submitted February 11, 2012.
Abstract
An IN718 alloy coating was prepared by high-power diode laser cladding. 980STA standard heat treatment and direct aging (DA) were employed to improve the properties of this coating. The niobium segregation in the as-deposited coating and the heat-treated coating had been investigated using a scanning electron microscope (SEM) equipped with energy-dispersive X-ray spectroscopy (EDAX). The results showed that 980STA standard heat treatment improved the microhardness of the coating significantly, and Laves concentration was reduced from 30.6 vol pct to about 11.4 vol pct after 980STA. The niobium concentration in Laves of the 980STA-treated coating was higher than that of DA-treated coating and as-deposited coating. Only a small portion of niobium in the coating was precipitated in the form of
γ
″ during the 980STA heat treatment. The rest of niobium was the alloying element for solid-solution strengthening and the constituent element of Laves. The niobium segregation facilitated the formation of Laves.