2019 | OriginalPaper | Buchkapitel
Effect of High RA Content on Properties of Stone Mastic Asphalt (SMA) Mixtures – Trial Section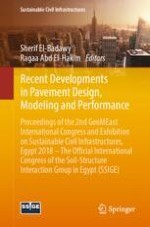 Erstes Kapitel lesen
Autoren: Pavla Vacková, Jan Valentin, Evangelos Manthos
Abstract
The usage of certain amount of reclaimed asphalt (RA) is a well-established trend, which can be seen in many developed countries. Regrettably there are some countries or regions which still have very strict standard restrictions about RA usage in asphalt mixtures, mainly in surface layers. For example in current technical standards in the Czech Republic the use of RA in stone mastic asphalt mixtures or asphalt concrete for premium surface layers is banned. Recycling of construction materials saves direct primary costs like new material purchasing and at the same time also facilitates savings of other costs like energy, material disposal and transport etc. Those factors are connected to environment-friendly approaches, primarily in the case of emission and greenhouse gas production reduction. Material disposal can subsequently be reduced solely to waste or by-product materials which have no way of further utilization.
In this respect a 5 km trial section was designed including 12 different variants of stone mastic asphalt mixtures. The mixtures contained 0%, 20%, 30% and 50% reclaimed asphalt. The mixtures differed not only in amount of used RA, but also in source of RA (normal and SMA RA), used bituminous binder and used additives. The selected additives were based on cellulose fibers modified by an oil-based rejuvenator and crumb rubber modification in some alternatives of the used rejuvenator.
The performance of the asphalt mixtures was assessed by term of stiffness modulus (IT-CY method), thermal induced crack propagation (SCB test), flexural strength (three-point bending test) and resistance to permanent deformations. The key findings are presented in this paper.