01.09.2018 | STRUCTURE, PHASE TRANSFORMATIONS, AND DIFFUSION | Ausgabe 9/2018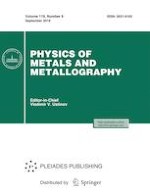 Effect of Hydrogen Intercalation on the Structure of YBa2Cu3O

y

with a Low Oxygen Content
Zeitschrift:
Autoren:

I. B. Bobylev, Yu. S. Ponosov, N. A. Zyuzeva, P. B. Terent'ev
Wichtige Hinweise
Translated by N. Kolchugina
Abstract
We used Raman spectroscopy to study the interaction of YBa
2
Cu
3
O
y
(123) (
y
≤ 6.5) with hydrogen at temperatures of 150–200°С. In contrast to the YBa
2
Cu
3
O
6.96
compound, compositions with low oxygen contents show a lower tendency to form stacking faults. We found that the hydrogenation of these compositions does not lead to the transformation of the 123 phase to the pseudo-124 phase. Absorbed hydrogen does not react with oxygen in 123 and does not form hydroxyl groups. The H
x
YBa
2
Cu
3
O
y
oxyhydride is the hydration-reaction product.