01.08.2016 | Original Paper | Ausgabe 17-18/2016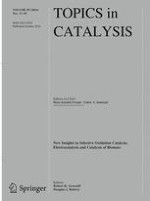 Effect of Location and Distribution of Al Sites in ZSM-5 on the Formation of Cu-Oxo Clusters Active for Direct Conversion of Methane to Methanol
Zeitschrift:
Autoren:

Monica A. C. Markovits, Andreas Jentys, Moniek Tromp, Maricruz Sanchez-Sanchez, Johannes A. Lercher
Wichtige Hinweise
Electronic supplementary material
The online version of this article (doi:
10.​1007/​s11244-016-0676-x
) contains supplementary material, which is available to authorized users.
Abstract
A series of Cu/ZSM-5 materials were synthesized and tested for the selective oxidation of methane to methanol reaction in a three stage reaction. The efficiency of the catalysts is related to the ability of the zeolite framework to stabilize multinuclear Cu-oxo species, namely dicopper and tricopper oxo clusters. Spectroscopy characterization by EXAFS showed that the exchange with moderate Cu loadings led to preferential formation of trinuclear Cu complexes [Cu3(μ–O)3]2+ in HZSM-5. The concentration of Al pairs in ZSM-5 is found to limit the maximum concentration of multinuclear Cu-oxo species that can be formed. Above such maximum, inactive Cu species including Cu oxide nanoparticles are formed. Conversely, it was found that at low loadings the Cu speciation in Cu/ZSM-5 occurs as a mixture of Cu monomers and dimers. Furthermore, it was found that not only the structure of Cu-oxo clusters is relevant for the activation of methane, but also the local environment in which the cluster is embedded. Comparison of methane to Cu stoichiometries achieved for Cu/ZSM-5 and Cu/MOR systems containing the same type of active [Cu3(μ–O)3]2+ cluster shows that approximately 50 % of these clusters are inactive on ZSM-5. While MOR stabilizes the trinuclear clusters in highly constrained 8-MR side pockets, the possibility of ZSM-5 to stabilize part of these clusters in less constrained local environments might be the reason for a lower activity in methane oxidation.