08.05.2019 | Original Paper: Sol-gel and hybrid materials for dielectric, electronic, magnetic and ferroelectric applications | Ausgabe 1/2019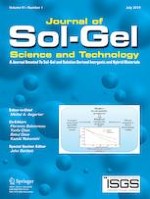 Effect of Mo substitution on the structural and soft magnetic properties of Li–Zn ferrites
Zeitschrift:
Autoren:

Yu Gao, Zhi Wang
Wichtige Hinweise
Publisher's note:
Springer Nature remains neutral with regard to jurisdictional claims in published maps and institutional affiliations.
Abstract
Spinel ferrites Li
0.3
Zn
0.4
Mo
x
Fe
2.3–

x
O
4
(
x
 = 0.00, 0.01, 0.02, and 0.03) have been prepared by the sol–gel auto-combustion method. The crystal structure, surface morphology, and magnetic properties of the samples have been investigated by X-ray powder diffraction (XRD), scanning electron microscopy (SEM), and vibrating sample magnetometer (VSM). The analysis of XRD data confirms the formation of a cubic Fd-3m phase for the samples with
x
 ≤ 0.02, while a small amount of impurity phases α-Fe
2
O
3
and Li
2
MoO
4
appears in the sample with
x
 = 0.03. The lattice parameter increases at
x
 ≤ 0.02, which indicates that the valence state of Mo ions is mainly trivalent. Both saturation magnetization (
M
s
) and initial permeability (
μ
i
) first decrease and then increase with increasing Mo content. The maximum initial permeability (
μ
i
) of 101 is observed at
x
 = 0.03, which is associated with the appearance of the impurity phase α-Fe
2
O
3
with high density. The Curie temperature increases first and then decreases with
x
increasing. The highest Curie temperature (
T
c
) of 360 °C is observed at
x
 = 0.02, which may be suitable for higher-temperature soft magnetic materials.
×