01.08.2014 | Ausgabe 9/2014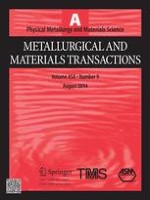 Effect of Multi-Axial Loading on Residual Strain Tensor for 12L14 Steel Alloy
Zeitschrift:
Autoren:

Jeffrey R. Bunn, Dayakar Penumadu, Xin Lou, Camden R. Hubbard
Wichtige Hinweise
Manuscript submitted September 25, 2013.
Abstract
Evaluating the state of residual strain or stress is critically important for structural materials and for reliable design of complex shape components that need to function in extreme environment subjected to large thermo-mechanical loading. When residual stress state is superposed to external loads, it can lead to reduction or increase in failure strength. Past diffraction studies for evaluating the residual strain state involved measuring lattice spacings in three orthogonal directions and do not often correspond to principal directions. To completely resolve the state of strain at a given location, a full strain tensor must be determined. This is especially important when characterizing materials or metallic components exposed to biaxial or complex loading. Neutron diffraction at the second Generation Neutron Residual Stress Facility (NRSF2) at Oak Ridge National Laboratory is used in this study to measure strain tensors associated with different modes of stress path. Hollow cylinder steel samples with 2 mm wall thickness are subjected to either pure axial extension or pure torsion to simulate multi-axial loading conditions. A virgin sample that is not subjected to any deformation, but subjected to identical manufacturing conditions and machining steps involved to obtain hollow cylinder geometry is used for obtaining reference
d
-spacing for given
hkl
planes at target spatial location(s). The two samples which are subjected to either pure tension or torsion are loaded to a deformation state that corresponded to equal amount of octahedral shear strain which is an invariant. This procedure is used so that a basis for comparison between the two samples can be made to isolate the stress path effects. A 2-circle Huber orienteer is used to obtain strain measurements on identical gauge volume at a series of
φ
and
ψ
values. The residual state of stress tensor corresponding to
ex situ
(upon unloading) conditions is presented for three lattice planes (211, 110, 200) for a bcc ferritic system exposed to tension and pure torsion.