27.06.2019 | Chemical routes to materials | Ausgabe 19/2019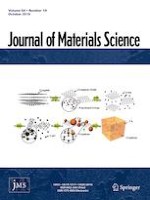 Effect of multi-walled carbon nanotubes addition on MnO

x

/Ti electrode prepared by spraying–calcination method for electro-catalytic oxidation of Acid Red B
Zeitschrift:
Autoren:

Xuelu Xu, Jiao Zhao, Zihao Zhou, Qi Jin, Rongrong Mo, Weifeng Liu, Yan Yang, Yimin Zhu
Wichtige Hinweise
Publisher's Note
Springer Nature remains neutral with regard to jurisdictional claims in published maps and institutional affiliations.
Abstract
The titanium-based electrodes with MnO
x
nanoparticles coating (MnO
x
/Ti) and MnO
x
nanoparticles mixed with multi-walled carbon nanotubes (MnO
x
–CNTs/Ti) were fabricated by spraying–calcination method. The physicochemical properties of electrodes were investigated by SEM, XRD and XPS, which indicated that the surface coating of MnO
x
–CNTs/Ti, with MnO
x
nanoparticles dispersed uniformly on the CNTs, was smoother and with higher integrity than MnO
x
/Ti. Acid Red B was used as model pollutant to investigate the electro-catalytic activity of the electrodes, and the results revealed that the removal efficiency of Acid Red B reached 93.6% and 98.0% by MnO
x
/Ti and MnO
x
–CNTs/Ti, respectively, and the cell potential during the process of degradation by MnO
x
–CNTs/Ti was relatively low and stable. The electrochemical results confirmed that MnO
x
–CNTs/Ti possessed smaller charge transfer resistance and higher oxygen evolution current compared with MnO
x
/Ti, which can enhance the electro-catalytic activity and reduce the energy consumption by accelerating the transfer of electrons on the electrode surface. The accelerated lifetime tests of electrodes were carried out and showed that actual service lifetimes of MnO
x
–CNTs/Ti were 38 times of that for MnO
x
/Ti calculated by the experienced formula, which demonstrated that the durability of MnO
x
-based electrode was significantly promoted by addition of CNTs on Ti substrate.