01.12.2013 | Ausgabe 12/2013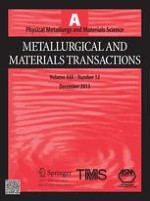 Effect of Multipasses on Microstructure and Electrochemical Behavior of Weldments
Zeitschrift:
Autoren:

Muhammad Atif Makhdoom, Muhammad Kamran, Gul Hameed Awan, Sehrish Mukhtar
Wichtige Hinweise
Manuscript submitted November 27, 2012.
Abstract
Shielded metal arc welding was applied to AISI 1045 medium carbon steel. The microstructural changes and electrochemical corrosion behavior of the heat-affected zone (HAZ), base metal (BM), and weld zone (WZ) were investigated. The effect of welding passes on microstructural changes of BM, HAZ, and WZ were elucidated using optical microscopy, potentiodynamic Tafel scan, and linear polarization resistance (LPR) methods in plain water and 3.5 pct (w/v) NaCl solution under standard temperature and pressure using corrosion kinetic parameters. From microstructural observations, the variations in ferrite morphology in the BM and WZ showed dissimilar electrochemical corrosion behavior and a corrosion rate than that of HAZ.