01.04.2014 | Ausgabe 2/2014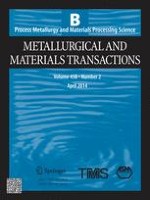 Effect of Na2O and B2O3 on the Crystallization Behavior of Low Fluorine Mold Fluxes for Casting Medium Carbon Steels
Zeitschrift:
Autoren:

Juan Wei, Wanlin Wang, Lejun Zhou, Daoyuan Huang, Huan Zhao, Fanjun Ma
Wichtige Hinweise
Manuscript submitted April 6, 2013.
Abstract
An investigation has been conducted to study the effect of Na2O and B2O3 on the crystallization behavior of low fluorine (F) mold powders for casting medium carbon (MC) steels in this article. The results of this study indicated that B2O3 tends to lower the crystallization temperature and increase crystallization incubation time of the low F powders; however, Na2O plays an opposite role compared with that of B2O3. The crystalline phase of Ca11Si4B2O22 was formed in Sample D2 [F = 3 pct, Na2O = 10 pct, B2O3 = 8 pct (in wt pct)], which exhibited the most similar crystallization behavior to that of cuspidine, such that Sample D2 showed closest crystallization kinetics to that of a conventional high-F mold slag for casting MC steels. The precipitated crystalline phases for all the samples have been analyzed and discussed in the article.