19.04.2019 | Ausgabe 8/2019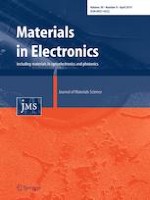 Effect of NH2-functionalized carbon nanospheres on the performances of poly(
p

-phenylene benzobisoxazole)/carbon nanospheres nanocomposite films
Autoren:

WenJuan Kou, Jun Qian, XueXue Chen, Qiang Liu, QiXin Zhuang
Wichtige Hinweise
Publisher's Note
Springer Nature remains neutral with regard to jurisdictional claims in published maps and institutional affiliations.
Abstract
This paper has reported the fabrication of poly(
p
-phenylene benzobisoxazole) (PBO)/carbon nanospheres (CS) nanocomposite films synthesized through two preparation process. Compared with solution blending method, in-situ polymerization method is demonstrated to be more effective in this system because it can provide homogeneous dispersion and interfacial interaction between polymer and fillers. Designed NH
2
-functionalized carbon nanospheres (DAR-CS) have numerous terminal amine functional groups, which not only promote the dispersion successfully, but also provide a platform to attach PBO molecular chains. PBO-DAR-CS nanocomposite films with 1.5 wt% DAR-CS show higher dielectric permittivity (10.95) as well as lower dielectric loss (0.027) at 1 kHz and 200 °C. Excellent tensile properties (tensile strength = 106 MPa, Young's modulus = 6.6 GPa) are observed as well as high thermal stability (decomposition temperature = 634 °C). This work has shown the distinct difference of dispersion and chemical bonding during the preparation process on the ultimate properties of PBO/CS nanocomposite films. The obtained PBO-DAR-CS composite films may be one of the promising dielectric materials applied in harsh environments.