01.06.2011 | Original Paper | Ausgabe 1/2011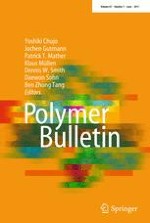 Effect of org-titanium phosphonate on the properties of chitosan films
Zeitschrift:
Autoren:

Rui Li, Changhua Liu, Jun Ma, Yajuan Yang, Haixia Wu
Abstract
A new type of titanium glycine-
N
,
N
-dimethylphosphonate Ti[(O
3
PCH
2
)
2
NCH
2
COOH] (TGDMP), with the functional groups –COOH, has been prepared first and then characterized by Fourier transform infrared spectroscopy (FTIR), X-ray diffraction (XRD), and transmission electron microscopy (TEM). Subsequently, chitosan/titanium glycine-
N
,
N
-dimethylphosphonate (CS/TGDMP-
n
) nanocomposite films of various compositions were prepared by solution casting method. The structure, morphology, and properties of nanocomposite films were investigated by FTIR, XRD, scanning electron microscopy (SEM), thermal gravimetric analysis (TGA), and tensile tests. The results showed that the mechanical properties of chitosan films were improved by the incorporation of TGDMP, and the samples kept at moisture environment showed the larger elongation and lower tensile strength than the dried counterparts. In addition, the CS/TGDMP-
n
films exhibited higher thermal stability and better moisture barrier property than neat CS films.