01.12.2015 | ORIGINAL ARTICLE | Ausgabe 1/2017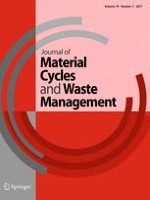 Effect of organic fraction of municipal solid waste (OFMSW)-based biochar on organic carbon mineralization in a dry land soil
Zeitschrift:
Autoren:

Guotao Liu, Mengpei Xie, Shangyi Zhang
Abstract
The purpose of this study was to investigate the priming effects of organic fraction of municipal solid waste (OFMSW)-based biochar on mineralization of soil organic carbon (SOC) mineralization; an incubation experiment was conducted for 36 weeks in a dry land soil. Three OFMSW-based biochars (pyrolyzed at 600, 700 and 800 °C) at a rate of 0.5, 1 and 2 % (w/w) were applied to the soil. During the mid and late stages of incubation, the application of biochar significantly increased SOC (
P
< 0.05). At the end of incubation, compared to control, the biochar amendment increased SOC by 7.88–30.05 %. Among treatments, significant higher SOC was ranked as soil + BC800 > soil + BC700 > soil + BC600 while the SOC increased significantly with increasing application rates of biochar. However, during the first 2 weeks of incubation, SOC of biochar treatments decreased rapidly, but not in the control. The cumulative amounts of CO
2
emissions are significantly reduced in the soil + 1 %BC and soil + 2 %BC. Biochar also improved soil quality parameters, such as pH, and cation exchange capacity (CEC). As a whole, our results demonstrated that biochar stimulates SOC mineralization in the dry land, but this effect decreases with time. Thus, it is concluded that the priming direction varied from positive to negative; in the long term, biochar amendment could suppress SOC mineralization. OFMSW-based biochar may be an appropriate management tool for increasing soil organic C storage, which is beneficial for fertilizing soil and fighting climate change.