01.11.2014 | Ausgabe 11/2014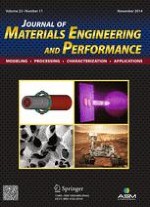 Effect of Partial Replacement of Si with Al on the Microstructures and Mechanical Properties of 1000 MPa TRIP Steels
Zeitschrift:
Autoren:

Chao Wang, Hua Ding, Jun Zhang, Huafang Di
Abstract
Two newly synthesized C-Mn-Si-Mo-Nb transformation-induced plasticity (TRIP) steels with and without Al addition were designed in order to achieve significant improvements in the mechanical properties. The effect of substitution of Si by Al on tensile properties and the microstructure of cold-rolled C-Mn-Si TRIP steel was investigated under different heat treatments. It was shown that a complex ultrafine microstructure composed of different phases was formed and two types of morphology for ferrite were detected (equiaxial and polygonal). The distribution of alloying elements was observed by using electron probe microanalysis. It was clear that C was concentrated in the retained austenite (RA) and small M/A (austenite/martensite) islands. The Al addition facilitated the formation of polygonal ferrite and increased the stability of the RA. The strain-hardening behavior was studied in detail. All the investigated specimens showed a very high strain-hardening exponent (instantaneous
n
) but their strain dependence was different. For the C-Mn-Si-Mo-Nb TRIP steel, the maximum
n
value was achieved when the strain was only about 0.04, while the
n
value of the Al substituted TRIP steel increased gradually until strains in the range of 0.07-0.10 were reached and the maximum value was achieved. As a result, the elongations of the steel with Al addition increased considerably without obvious deterioration of strength. It was the first time to find microtwinned martensite located between ferrite and bainitic ferrite after tensile deformation in the low alloy TRIP steel with Al.