08.10.2018 | Ausgabe 6/2018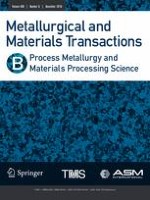 Effect of Partial Substitution of Mn for Ni on Mechanical Properties of Friction Stir Processed Hypoeutectic Al-Ni Alloys
Zeitschrift:
Autoren:

Fatemeh Yousefi, Reza Taghiabadi, Saeid Baghshahi
Wichtige Hinweise
Manuscript submitted April 30, 2018.
Abstract
In this study, the mechanical properties of as-cast and FSPed Al-2Ni-
x
Mn alloys (
x 
= 1, 2, and 4 wt pct) were investigated and compared with those of the as-cast and FSPed Al-4Ni alloy. According to the results, the substitution of 2 wt pct Mn for 2 wt pct Ni leads to the formation of fine Mn-rich intermetallics in the microstructure increasing the tensile strength, microhardness, fracture toughness, and specific strength of alloy by 22, 56, 45, and 35 pct, respectively. At higher Mn concentrations, the formation of large Mn-rich platelets in the microstructure reduces the tensile properties. Friction stir processing at 12 mm/min and 1600 rpm significantly enhances both the strength and ductility of the alloy. The tensile strength, yield strength, fracture strain, fracture toughness, microhardness, and specific strength of FSPed Al-2Ni-4Mn alloy improved by 97, 83, 30, 380, 152, and 110 pct, respectively, as compared to those of the as-cast Al-4Ni alloy. This can be attributed to dispersion strengthening of Ni- and Mn-rich dispersoids, formation of ultrafine grains, and elimination of casting defects. The fractography results also show that the brittle fracture mode of the as-cast Mn-rich alloys turns to a more ductile mode, comprising fine and equiaxed dimples in FSPed samples.