18.09.2017 | Research Paper | Ausgabe 2/2018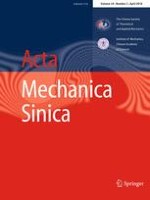 Effect of perforation on flow past a conic cylinder at
Re

= 100: vortex-shedding pattern and force history
Zeitschrift:
Autoren:

L. M. Lin, X. F. Zhong, Y. X. Wu
Abstract
The flow past a circular-section cylinder with a conic shroud perforated with four holes at the peak was simulated numerically at
\(Re=100\)
, considering two factors, viz. the angle of attack and the diameter of the holes. The effects of the perforated conic shroud on the vortex shedding pattern in the near wake was mainly investigated, as well as the time history of the drag and lift forces. In the investigated parameter space, three flow regimes were generally identified, corresponding to weak, moderate, and strong disturbance effects. In regime I, the wake can mainly be described by alternately shedding Kármán or Kármán-like vortices. In regime II, the spanwise vortices are obviously disturbed along the span due to the appearance of additional vorticity components and their interactions with the spanwise vortices, but still shed in synchronization along the spanwise direction. In regime III, the typical Kármán vortices partially or totally disappear, and some new vortex shedding patterns appear, such as
\(\Omega \)
-type, obliquely shedding, and crossed spanwise vortices with opposite sign. Corresponding to these complex vortex shedding patterns in the near wake, the fluid forces no longer oscillate regularly at a single vortex shedding frequency, but rather with a lower modulation frequency and multiple amplitudes. An overview of these flow regimes is presented.